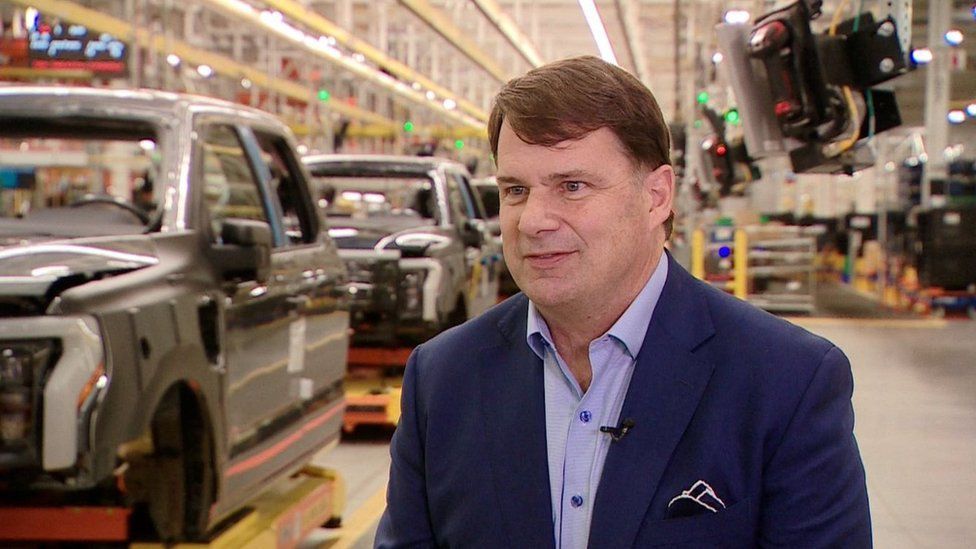 ​Ford boss Jim Farley has a lot riding on this moment.
On Tuesday, the Detroit carmaker celebrates the formal start to production of the electric version of the F-150 pickup, the best-selling vehicle in America for decades.
It's a milestone seen as critical for Ford - and for the environment - as the company seeks to convince more Americans to drop their resistance to buying electric vehicles.
"It's a big bet by the company," Mr Farley tells the BBC.
"Certainly for me as the CEO, this is one of the signature moments in my life and in our team's life."
Electric vehicles remain a small fraction of the global car market, accounting for 9% of sales last year.
And in the US - the world's biggest carbon emitter after China, where gas-guzzling sport utility vehicles (SUVs) and trucks dominate the road - it was even smaller, at 4.5%.
Analysts say offering electric versions of popular vehicles will be key to convincing the American public to buy electric.
But whether Ford will be able to convert the large numbers of F-150 loyalists across the country to the "Lightning" remains an open question.
Related articles
Recent news and insights
​Japanese motor industry giant Toyota has suspended operations at all of its assembly plants in its home country due to a glitch in its p...

Read More

​The government remains committed to banning the sale of new petrol and diesel vehicles by 2030, cabinet minister Michael Gove has said.S...

Read More

​The UK is set to win a battle with Spain to host a multi-billion-pound electric car battery plant in Somerset, the BBC understandsThe b...

Read More